It's easy to live in the UAE and co-exist with the country's "locals" but never get to know them. Some ex-pats are fine with that, but I was not. I was more than curious. I felt I wouldn't have really experienced this country if I never engaged with its people. Then I met "Sunshine," a nickname my local friend said to use for her.
I was more than fortunate to have made friends with a local and to meet her friends. For those interested in learning about people of the Emirates, the link below to an essay in The National, the new newspaper from Abu Dhabi, is helpful.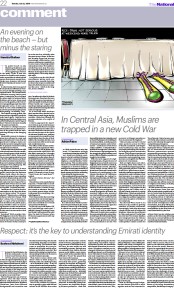 Respect: it's the key to understanding Emirati identity
comment Bushra al Hahshemi
The National - News
22 Jul 2008

"The late Sir David Roberts, the British ambassador to the United Arab Emirates from 1977-81, wrote in a foreword to This Strange Eventful History, the memoirs of another British diplomat, Edward Henderson in 1988: "A diplomat might speak excellent...read more...